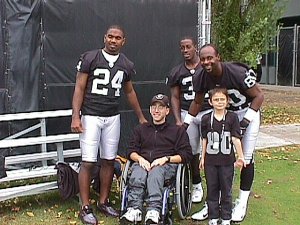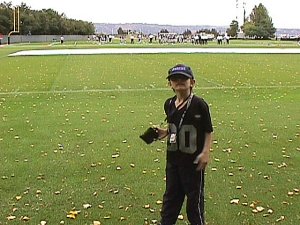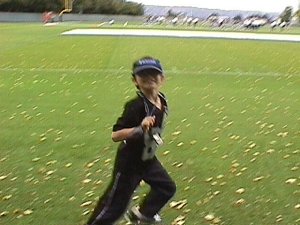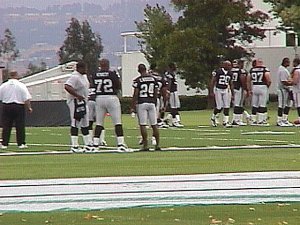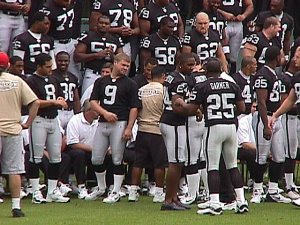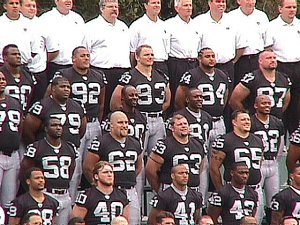 My day with the Oakland Raiders back in 2002

Raiders Welcome Special Guests

September 28, 2002

By Stephanie Werth

Some people wait all of their life to meet their heroes. Saturday morning was an especially big day for two young Silver and black fans.

The Raiders welcomed two children with special needs for a morning with the team. After being greeted by the players, Kevin Matyko and Raymond Bautista watched from the sidelines as the team took their annual team picture and then did a walk through for Sunday's game against Tennessee.

Raymond Bautista, a cancer survivor from San Leandro, has been a Raider fan for as long as he can remember and is a huge fan of Jerry Rice. When he isn't watching the games on Sundays, he spends a lot of his time at home on the computer. At the age of nine he has already built a website, www.ussgoblin.com, as well as traveled to countless NASCAR events and Raider games. When asked why the Raiders were his favorite team he responded, "Because they're the real men in black!"
Kevin Matyko traveled all the way from Syracuse, New York, to make a special visit with the Raiders. On the Journey to Oakland, Kevin and his family has been able to see the Mall of America, take a tour of the Portland Gardens, and watch a Packers game. Nothing has been as exciting as getting up close and personal with some of his favorite Raiders like Jerry Rice, Tim Brown, and Rod Woodson. Before heading back to Syracuse, Kevin will be cheering on his new friends at Sunday's game against the Tennessee Titans.

Kevin and Raymond topped off their visit by taking pictures and getting autographs with some of the players. The final gift from the Raiders was an official practice ball.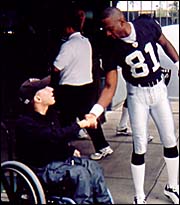 Kevin Matyko shakes hands with WR Tim Brown.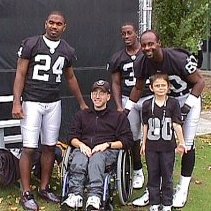 Charles Woodson (24), Phillip Buchanon (31)

and Jerry Rice (80) pose for a photo with

Kevin Matyko and Raymond Bautista after

this mornings practice.